The magic of Buckwheat.
More and more dogs are suffering digestion issues these days often caused by food intolerances/sensitivities. Some being a result of wheat/grains & gluten. Starchy grains can also contribute to a variety of other health issues. They include inflammations, yeasty skin, weight gain and even type 2 diabetes.
People are surprised to hear that Buckwheat, which misleadingly has 'wheat' in the name, is in fact not a grain at all but is, in fact, a seed. It's related to the Rhubarb plant. It belongs to a group of food's referred to as pseudocereals because it's consumed as normal cereal grains, but it doesn't grow on grasses as grains do.
Is it gluten-free, yes it absolutely is!
Buckwheat is a soluble fibre, which can help with slowing down the rate of glucose absorption, a plus for diabetic dogs. It's also been shown to protect the digestive tract from Oxidative damage which is caused by free radicals, in laymen's terms this means it can help to fight off cancer & infections in the digestive organs. It's also high in two amino acids (lysine & arginine) these are essential and are found to be missing from major cereals.
Buckwheat is simply a great source for Vitamins, Minerals, antioxidants and fibre. An interesting piece of information I came across a few years ago which got me interested in the fact it contains what is called rutin which is a bioflavonoid and that has powerful anti-inflammatory effects. Bioflavonoids are found in some Vegetables & Fruits, such as spinach & broccoli, mangoes & papayas.
It's a bit of a dark horse and not just another average flour.
One thing I absolutely love about Buckwheat is the fact that it's a rapid, hardy growing plant that doesn't seem to suffer from diseases. So NO crop spraying needed, hurrah and the bees thrive on the flowers & produce some magical honey.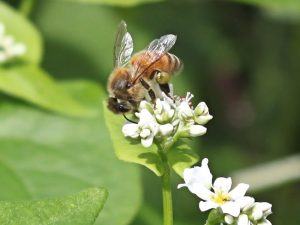 So, it's quite the little super-star!
Talking to many dogs owners and hearing stories of their dog suffering from sensitivities, whether is be yeasty smelly, waxy ears or sore itchy feet and as well as it's driving the poor dog's mad, owners pulling their own hair out due to the endless vet bills with rarely a positive long term outcome. The clue is when it clear's temporarily, say a month respite and then reappears.
The issue here is that the problem is nearly always treated from solely the outside of the dog and rarely from within (the gut) where initially the problems lie, (diet). Science is now showing us that many illnesses transpire from poor gut health.
This is why we, here at Nellies Nibbles Dog Bakery use buckwheat flour in all our baking of dog treats.