Pumpkin the Super Veg!
A Pumpkin for your dog is an amazing, healthy super veg.
You can create some amazing seasonal creative artwork but there's so much more to the humble pumpkin. Pumpkins provide a natural source of many beneficial vitamins and nutrients
The first thing to remember is not to use the pumpkin that your family members have carved out for Halloween. You don't want your dog eating a carved pumpkin that's been sitting on your windowsill for the last week due to it growing and containing mould and bacteria. Go buy a fresh one.
The health benefits of pumpkin for dogs are endless
Eye Health. Pumpkin flesh contains something called Lutien and Zeaxanthin. This helps to promote eye health and may improve sight.
Digestion. Pumpkin flesh is beneficial for your dog's digestion health. It's known to help with Diarrhoea & constipation. It's a good source of fibre. Fibre helps to bulk your dog's stool if your dog is elderly and suffers from constipation, fibre from the pumpkin can help to stimulate your dog's colon which will help your dog to pass the stool. It can help with diarrhoea because it's a soluble fibre it can help to absorb water. Please do check first with your vet to make sure there are no serious health concerns regarding your dog's cause of constipation or diarrhoea.
Overweight dog. Pumpkin flesh can be a good partial swop from the food bowl. Take a portion from your dog's usual food from their bowl and add in some pumpkin in place of what you've removed. Pumpkin contains soluble fibre which gives your dog a sense of being full, hence your dog should be more content and not begging for more food.
Nothing goes to waste……….
Pumpkin seeds are a hidden jewel too. I've used these for a few years now with my own dogs as a natural wormer. Seeds contain an ingredient called CUCURBITIN. Which has been found to paralyze the parasites in the intestine. I prefer to grind my seeds up in a small coffee grinder.
Seeds contain TRYPTOPHAN natural serotonin. A chemical that aids sleep and relaxation.
Pumpkin provides a natural source of many beneficial vitamins and nutrients:
Potassium – an electrolyte essential for muscular contraction and recovery from activity.
Vitamin C – firstly 1 cup of pumpkin contains at least 11mg of vitamin C. Vitamin C is vital for its antioxidant and immune system supporting effects.
Beta-Carotene. – beneficial for preventing cancer. Just look at a pumpkin's bright orange colour. You can literally see how rich it is in beta-carotene.
Alpha-Carotene
Fibre
Zinc – will help improve skin and coat.
Iron
Vitamin A – which is important for your dog's eye health.
Pre-biotic Pumpkin contains fibre which can serve as a pre-biotic for good bacteria to grow in the gut.
Urinary Health. Oil from the pumpkin flesh and in the seeds are thought to support urinary health. Dog's that suffer from urinary incontinence, may benefit from a little pumpkin in their diet.
Skin & Fur These seeds are high in essential fatty acids and antioxidants. This helps keep your dog's skin and fur healthy.
Food Dry kibble dog food is moisture deficient. If you add some flesh of pumpkin to your dog's dry kibble it can help to reduce dehydration. It contains 90% water.
When you want to introduce a new food, start off with a small amount. You will only need to add to your dog's food bowl once or twice a week at most. Here at Nellies Nibbles Dog Larder I like to make up in small portion batches & freeze by using Icecube trays. This way you have small amounts to defrost and give to your dog without having to defrost a larger amount which would be a waste, dependant on how many dogs you have and their sizes.
So there you have it, pumpkin really is a superfood for dogs 🙂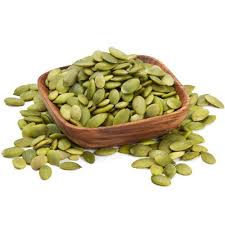 https://www.nelliesnibblesdoglarder.co.uk/product/organic-pumpkin-seeds-100g/
https://www.dogsnaturallymagazine.com/pumpkin-seeds-natural-worms-dogs/