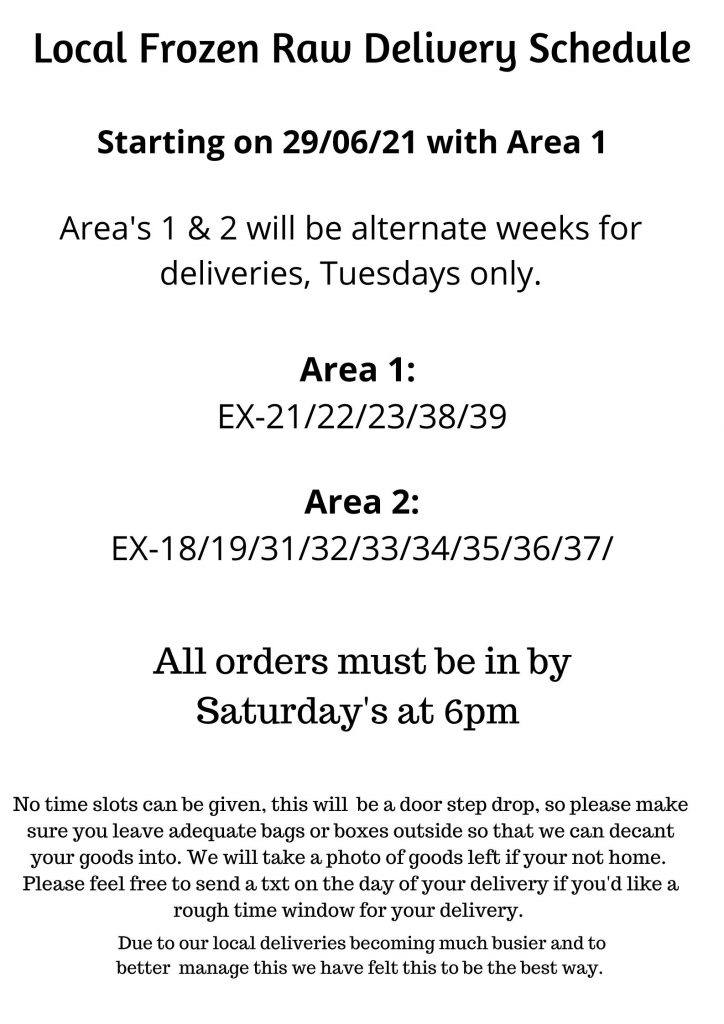 Local Delivery (Frozen Only)
We offer delivery within North Devon & Part of Cornwall
Local deliveries are for raw frozen dog food, min spend £20 Frozen Dog Food. Orders under £20 (Goods) will be refused. You can also add treats & products to your order. Local deliveries to the  listed postcode areas only. 
Local Delivery Days are every Tuesday. We do not send raw dog food by courier.
Should you wish to order treats on top of your raw order the delivery charge will remain the same. We don't deliver just treats alone.
Local Delivery Charges will be calculated once you enter your postcode at the checkout.


They Are as follows: 3 Miles – £2.50  3-12 Miles – £3.50  12-25 Miles – £5.50  25-40 Miles – £6.95 (Mileage is charged from the shop-unit)


We will make a door step drop a

We take NO res

ponsibility once your order has been left.
Should your meat start to slightly defrost it is quite safe for it to be re-frozen.
We have chosen to do it this way because we are passionate not to create more unnecessary packaging that often ends up in land fill.
Please make sure you provide your phone number at checkout, we can then call/text you to let you know when to expect your delivery on route. Sorry we can't always give a specific delivery time
Courier delivery (Treats & Products ONLY. Not Frozen Raw Food Items) Please allow up to 7 days for you order to arrive. Sadly we have no control on speed of delivery once your items is with the courier.
                                    You Can Now Come In & Shop
To keep everyone safe we can only have 3 people into the shop-unit at any one time. So please shop on your own where possible. Mask's to be worn at all times and please use the hand sanitizer at the door as you come in.
All freezers are cleaned throughout the day. 
Opening On Friday 25th June 10am – 5pm. Saturday 26th June 10am – 3pm 
There after the days & hours are as follows: 
                                                                                    Monday: CLOSED
                                                           Tuesday:  CLOSED (Local Frozen dog food deliveries only)
                                                                                     Wednesday : 12-6pm
                                                                                      Thursday : 10-3pm
                                                                                         Friday 10-5pm
                                                                                      Saturday: 10-3pm                 
                                                                                       Sunday: CLOSED
                                  Returns  & Refunds Policy
At Nellies Nibbles Dog Larder, we want you and your pet to be delighted with our products. If for any reason, you are unhappy with our products or recieve them damgaed and would like an exchange or refund, please email us as soon as possible. Please include your order number and reason for exchange/return.
PLEASE NOTE No refunds will be given for the return of Raw foods unless it's due to an official recall from the manufacturer's and we do not swop raw food for other brands from within our shop. Once it has left our premises we are legally not allowed to. So PLEASE DON'T BUY BULK BOXES UNLESS YOU KNOW YOUR DOG WILL LIKE IT. 
If you wish to return any products, they must reach us within fourteen days of when we dispatched your order. We recommend you use a postal service with proof of postage. Ensure that returns are packed appropriately (ideally using the packaging we initially supplied) and include a note stating your order number, contact details and reason for returning the item. Please note you will have to bear the direct cost of returning items.
Please allow 7 working days for your card payment refund to appear in your bank. This isn't in our control and is determinded by the card processing company/bank.
Any returned items must be sealed/unopened. If the goods are not returned to us within 14 calendar days, we will not refund the order.
Refunds will be made within 30 days. The refund will be made to the same card or paypal account used to make the purchase. This returns policy does not affect your statutory rights.